This life
Have your say - on
Public Address's Word of the Year
. Last year Te Qaeda was the winner. This year, looks like a variation on roflnui could take out the title.
Remember the 90s Brit series
This Life
? There's a follow up thingie - This Life + 10 (UKTV, 8.30pm). The actors playing the very fanciable Miles (Jack Davenport) and Egg (Andrew Lincoln) are recognisable, having gone on to do other movies and telly. Anna was a bloody strong feisty Scot, brilliantly portrayed by Daniella Nardini, here she is with Miles.
Kermit does LCD soundsystem "NY I love you" (courtesy of The Guardian)
More proof that Kimi Raikkonen is delishdelish from Tag Heuer
Want a movie that combines Mad Max, zombie flicks, Aliens, and Excalibur? Plus soundtrack featuring Adam and the Ants, Siouxie and the Banshees and Fine Young Cannibals? Aston Martins? Oh and Malcolm McDowell? You know you do ... it's
Doomsday
and it is so bad it's good.
What a great article (and title) -
Smelly Masterpieces
by Angus Trimble - a critique of Perfumes by Luca Turin and Tania Sanchez.
I did a double take when I saw this Guardian article ...
Afghan-born Prix Goncourt winner Atiq Rahimi
is the doppelganger of our beloved Nicholas Cave, is he not?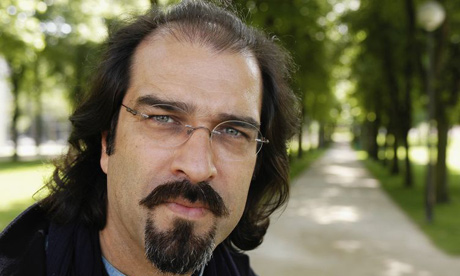 'Le freak' c'est chic on model circuit
- The Age
The gorgeous Joan from Mad Men - Ginger Va Va Voom
My favourite band du jour - Boy Crisis (see their
myspace
:
effing genius awesome:
Boy Crisis is an American Proto-Post Popular Music Band from the United States following the Rhythm & Blues Tradition of such classic acts as The Ronettes and New Edition, carrying on the Great Western Tradition of cultural appropriation in an attempt to forge at least some semblance of interpersonally translatable empathy and compassion and at most, true love. Two useful terms a music journalist might feel compelled to use in describing them would be: "danceable" and "pop hooks." Boy Crisis is a "Brooklyn buzz band." They are well-liked in the blogosphere. They are hip and marketable to several youthy demographics. They have "crossover appeal." They have an "ethnic band member." Boy Crisis is a semi-cosmic cultural entity. Their spaced-out vibe is totally tubular. They are the conundrum of masculinity and youth. They are a limited liability corporation.

Labels: perfume, public address word of the year, this life